Whether you're preparing for the Great Backyard Bird Count or just want to see more birds, we have a variety of the best seed blends and suet in town! Our seed blends:
are chosen by your local expert
are formulated to care for your birds.
contain no cereal fillers – just seeds your birds love.
Our suet and no-melt suet dough contain high-quality ingredients and make every trip to the feeder count.
SAVE NOW on 20 lb. Bags of Bird Seed (Now thru 2/15/16)*
*Valid only at the Wild Birds Unlimited of Seekonk. Offer not valid on previous purchases or sale items. Offer expires 2/15/16.
Your Backyard Counts!
Take Part in the Great Backyard Bird Count
February 12 - 15, 2016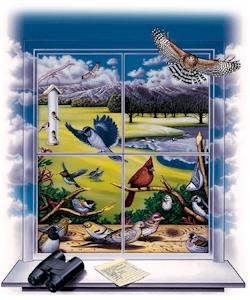 When you feed birds in your backyard, it shows that you value having a daily relationship with nature and that you are willing to take action to foster it.
Like many of us, if you have been feeding birds for a while…you probably have a reputation. Your friends, neighbors and relatives likely see you as a person who loves nature, and they value your willingness to share the joy of "your" backyard birds at a moment's notice.
Your hobby and your backyard truly count as things that are important to you.
The Great Backyard Bird Count gives you the opportunity to make them count even more than ever by participating in this annual event which links citizens with scientists in an effort to collect important data about backyard birds.
The GBBC is a joint project of Cornell Lab of Ornithology and the National Audubon Society and is sponsored by Wild Birds Unlimited. It takes place each February. Count the birds in your backyard, and then simply report the information online at http://gbbc.birdcount.org/.
Your information becomes part of an extensive data base that is analyzed by scientists to better understand important trends in bird populations, range expansions, habitat changes and shifts in migration patterns.
Make your backyard count even more for the birds when you participate in this year's GBBC. And to ensure the birds all show up to be counted, visit our store for the widest variety of great bird food products!
How to Attract More Birds with Peanuts
Make Treats For The Birds
Making treats for the birds is an activity the whole family can enjoy.
SUET STUFFING FOR PINE CONES
1 cup chunky peanut butter
1 cup WBU Simply Suet® (pure rendered suet)
2 ½ cups coarse yellow cornmeal
WBU Deluxe Blend, raisins and/or peanuts (optional)
Mix peanut butter, suet and cornmeal together. Stir in birdseed, raisins or peanuts if desired.
PINE CONE FEEDER
Pack Suet Stuffing into pine cones. Roll pine cones in WBU Seed Blend. Hang with string or ribbon from tree.
BAGEL FEEDER
Split bagels in half. Allow to harden overnight. Spread peanut butter on each side and sprinkle with WBU Seed Blend. Tie a string through hole and hang.
WBU Daily Savings Club
Members can save money all year long
on the freshest bird food in town.