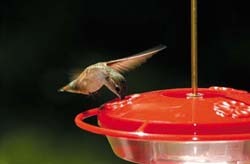 It's a Sweet Month to Feed the Birds
Spring migration is underway, and a countless number of birds are heading north to their nesting territories.
Fortunately, two of the hobby's favorite birds, hummingbirds and orioles, can be immediately attracted to feeders with nectar (and fruit and jelly for orioles), making it a sweet month to feed the birds.
Only 5% of all avian families include nectar as an important part of their diet, making hummingbirds and orioles part of a very exclusive dining club.
It only takes between 30 to 50 minutes for nectar to be digested, so hummingbirds must eat a lot and often. In fact, hummingbirds eat about every ten minutes and can drink up to twice their body weight in nectar every day.
However, no bird's diet is made up entirely of nectar. Nectar-eaters must also include other foods, usually insects, to obtain essential amino acids and other nutrients.
When orioles are not feeding on nectar or fruit, they forage for spiders, caterpillars and other insects. Hummingbirds spend more than 25% of their time foraging for arthropods, such as spiders.
You can attract hummingbirds and orioles to your feeders using slightly varying methods. Hummingbirds enjoy a nectar solution of four parts water to one part sugar. Orioles prefer a mix of six parts water to one part sugar, plus solid foods, like fresh orange slices, grape jelly and mealworms.
Watch Northern Migrations Online
Visit www.learner.org/jnorth/humm to monitor the northward migration of hummingbirds and www.learner.org/jnorth/oriole for an oriole migration map.
How to Attract Hummingbirds
How to Attract Bluebirds

Habitat

There are three species of bluebirds found in North America, including Eastern, Western and Mountain Bluebirds. They prefer open spaces with few trees like suburban lawns, golf courses and parks. Bluebirds use nest boxes, and they can be attracted to feeders.

Recommended Housing

To entice bluebirds to nest in your yard, we recommend using the Wild Birds Unlimited Bluebird House. Officially approved by the North American Bluebird Society, this house provides protection from weather and extreme temperatures and features the proper dimensions and other amenities bluebirds desire. In addition, the roof opens for viewing eggs and babies, and the side opens for easy cleaning. Available in durable wood or recycled plastic.

Using the Wild Birds Unlimited Advanced Pole System®, place the house at a safe, desired height of about five feet. This height is optimum for bluebirds, and it allows you to easily monitor their progress.

Use the Wild Birds Unlimited Raccoon Baffle to prevent squirrels, raccoons, snakes or other predators from getting to the nest.

Recommended Foods

To attract the most bluebirds to your feeders, we recommend offering mealworms, Jim's Birdacious® Bark Butter® and Bark Butter Bits. We carry a variety of feeders that you can use to offer these foods to your birds.

Mealworms are ideal for providing the necessary protein and nutrients to adult bluebirds and their babies.

Jim's Birdacious Bark Butter is the perfect blend of protein and fat, and it will keep them going regardless of the weather.

Bark Butter Bits contain calcium and may support healthier bones and eggs for mother birds and their babies.

Mealworms
Birds Love Them

Jim's Birdacious Bark Butter
A WBU Exclusive

Jim's Birdacious Bark Butter Bits
A WBU Exclusive
Nesting
Watch Our Barred Owl Nest Cam!
A mama Barred Owl has set up residence in our owl nest box again this year. Jim Carpenter, President & CEO of Wild Birds Unlimited, has hosted a camera-equipped owl box in his backyard for many years and it's time to check in on this year's residents.
Mama moved into the box in early March. If all goes well, we can expect the owlets to start hatching in mid-April. They'll leave the nest four to five weeks after hatching.
Stop by often to watch the live streaming video from the nest box 24 hours a day!
(Mouse over the video below to access video controls and to share with friends.)
WBU Daily Savings Club
Members can save money all year long
on the freshest bird food in town.