Meet Birds' Needs and Save, Too
There's never been a better time to save on the seed your birds need as they prepare for fall and winter.
Keep your feeders filled and enjoy the show!
Our seed blends are chosen for our local birds and contain no cereal fillers - just seeds your birds love.
15% OFF 20 lb. Bags of Seed*
*Valid only at the Wild Birds Unlimited of Seekonk. Not valid with other discounts or previous purchases. Offer expires 10/31/15.
How Cool is That! - No-Mess
Providing Food Now Will Help Later
During fall and winter, chickadees, nuthatches and titmice will hide food to retrieve and eat at a later time. This behavior is called "caching." Caching helps birds survive during bad weather and when food sources are low.

These birds store hundreds of seeds a day, and each seed is placed in a different location and they remember where each one is. They can find each site accurately even a month later.

By providing an easily accessible food source, you can help your chickadees, nuthatches and titmice with their caching needs. Below is a little more detail on some of your favorite birds' caching behaviors.



Chickadees

Cache seeds (in the shell and out), nuts, insects and other invertebrate prey
Food is typically cached within 130 feet (40 m) from feeders
Cache more during the middle of the day
May carry off several seeds at a time, but each item is stored in a separate location
Store food in knotholes, bark, under shingles, in the ground and on the underside of small branches




Nuthatches

Prefer to cache hulled sunflower seeds, because they are easier and faster to cache; occasionally mealworms
Choose heavier seeds (because they are larger or have a higher oil content)
Food is typically cached about 45 feet (13.5 m) from feeders
Most active caching time is early in the day
Store food in bark crevices on large tree trunks and on the underside of branches




Titmice

Cache sunflower, peanuts and safflower
Food is typically cached within 130 feet (40 m) from feeders
Cache one seed at a time and typically choose the largest seeds available
Often remove seeds from their shell (80% of the time) before hiding them
Keep Woodpeckers Off Your House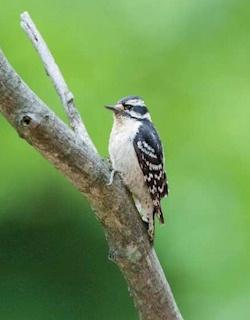 Generally, woodpeckers peck at houses for one of three reasons – to attract a mate or proclaim territory, to seek food (insects in the wood), or to try to create a nest in the side of a building. Try the following options.
Scaring Woodpeckers
Scaring woodpeckers may be successful if started promptly. Scaring the woodpeckers from the house or area relies upon the bird's response to danger or unpleasant experiences. Spray the woodpecker with water from a garden or high-pressure water hose.
Light pie plates and metal can lids can be suspended on a string. One end of the string can be near a convenient window or door where the line can be jerked whenever the bird appears.
Attach string to the ends of aluminum foil strips cut two to three inches in width and two to three feet in length and hang from damaged or tapping sites.
Pinwheels with reflective vanes may be attached at tapping or damaged sites. These must rotate in order to be a deterrent.
Models or silhouettes of snakes, owls or hawks may be the least effective unless they are hung to move in the breeze and/or in conjunction with playing recorded calls of birds of prey.
Excluding Woodpeckers
Cover the site with plastic or nylon netting or hardware cloth. Permanent installation of hardware cloth or other screening may be the best solution when woodpeckers make repeated attempts over several years to make holes or nests.
Metallic or wooded surfaces used for drumming may be wrapped or covered with cloth or foam. An alternative tapping site or surface such as a wooden box or metal cylinder hung in a less annoying location may be considered.
Placing a woodpecker house over the area if the bird is interested in nesting may encourage the bird to stop creating another hole.
Backyard Bird Feeding Solutions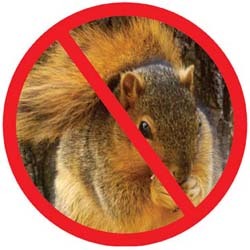 While summer continues to be a wonderful time to feed the birds, unwanted feeder visitors can be troublesome. With the proper feeders, food and accessories, you can enjoy your birds and limit these possible problems.
Safflower
Offer safflower, and keep starlings and grackles from eating all your bird food, crowding your feeders and chasing away the birds you want to see. Safflower is a small, white seed that is high in protein and fat. Most song birds eat safflower, however, starlings, grackles and squirrels typically do not.
Guard Against Squirrels and Large Birds
Take delight not only in seeing the finches, chickadees and other colorful birds you enjoy, but also in frustrating the squirrels, grackles, pigeons and starlings. With our On Guard™ cages, you control the size of bird that dines at your feeder. They allow small birds to go in and out to get their seed but stop larger birds and animals from entering. Our cages will fit a variety of feeder styles and sizes.
Our Top-of-the-Line Squirrel-Proof Feeder
The Eliminator™ allows you to stop squirrels from eating your seed. Featuring unique, weight-sensitive technology, the feeder's seed ports are closed when a squirrel touches the perch ring. You can set the sensitivity level to also exclude large birds such as pigeons or doves. It's easy to hang, holds about three quarts of seed and is backed with a limited lifetime guarantee.
Baffle Your Squirrels
Our Advanced Pole System® (APS) Squirrel Baffle is designed to help make your bird feeding station squirrel-resistant. Made of durable, powder-coated steel, these baffles feature a tapered design that is very effective in stopping squirrels before they reach your feeders.
Place your baffle on your setup so the top of the baffle is 4½' - 5' from the ground.
We also offer raccoon baffles.
WBU Eliminator™ Squirrel Proof Feeder
Protect your seed bounty from squirrels with our Eliminator. When a squirrel touches the perch ring, its weight closes the seed ports, foiling its seed-stealing plot. The Eliminator's unique technology allows you to set the sensitivity level, so you can also exclude large birds such as pigeons or doves.
It's easy to hang, holds three and a half quarts of seed and is backed with a limited lifetime guarantee. This feeder also features a special seed ventilation system that helps keep seed fresher.
The Eliminator can be disassembled and assembled with no tools, and all of its parts are top shelf dishwasher safe.
WBU Daily Savings Club
Members can save money all year long
on the freshest bird food in town.