Bird Seed Sale
Though seed-eating birds will continue to look for supplemental sources, they require seeds that will provide them with their essential fall and winter fat and calories. So it's important to offer the right seeds in your bird feeders. Shop now and save on the best seed and WBU Seed Blends. Our seed blends:
are chosen by your local expert.
formulated to care for your birds.
contain no cereal fillers - just seeds your birds love.
20% OFF All Bags of Seed & Suet, Now thru 10/26*
*Valid only at the Wild Birds Unlimited of Seekonk. Not valid with other discounts or previous purchases. Offer expires 10/26/14.
How Cool is That! - Chickadees
Set a Place for Your
Globe-trotting Guests
More than 300 bird species found in North America during the summer make their way to Central and South America or the Caribbean, some covering distances of nearly 7,000 miles. Parks, backyards and nature refuges across the country will host these winged visitors as the birds make their way to their winter homes.
Migration is a fascinating part of bird behavior. Besides the amount of daylight, it appears that age, sex, weather and the availability of food, water and shelter are the major factors in migratory behavior.
While migration is still not completely understood, it appears that some birds orient themselves by the stars on clear nights while others seem to have a built-in magnetic compass. Some birds travel over large bodies of water, and birds commonly lose one-fourth to one-half of their body weight during such over-water migration.
In order to survive their grueling trip, birds accumulate fat prior to migration. This physiological change helps the birds maintain their energy reserves.
Not only can we enjoy migrating birds as they pass through our area, but we can also play a role in their survival by providing food, water, habitat and/or shelter to help them conserve and replenish their energy supply during their journey. Foods that are high in fat, such as suet, Bark Butter and a seed blend with lots of sunflower seeds, help birds refuel their energy supply.
Backyard Bird Feeding Solutions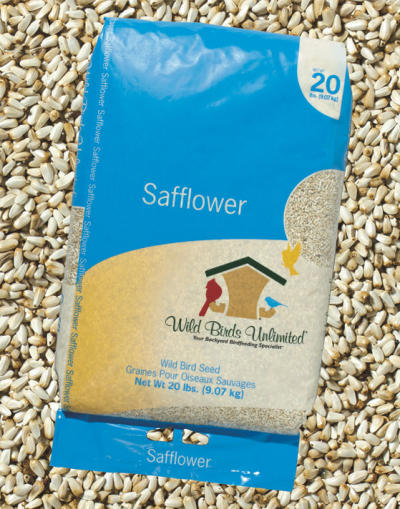 While late-summer continues to be a wonderful time to feed the birds, unwanted feeder visitors can be troublesome. With the proper feeders, food and accessories, you can enjoy your birds and limit these possible problems.
Safflower
Offer safflower, and keep starlings and grackles from eating all your bird food, crowding your feeders and chasing away the birds you want to see. Safflower is a small, white seed that is high in protein and fat. Most song birds eat safflower; however, starlings, grackles and squirrels typically do not.
Squirrel Solutions
Guard Against Squirrels and Large Birds Take delight not only in seeing the finches, chickadees and other colorful birds you enjoy, but also in frustrating the squirrels, grackles, pigeons and starlings. With our On Guard™ cages, you control the size of bird that dines at your feeder. They allow small birds to go in and out to get their seed but stop larger birds and animals from entering. Our cages will fit a variety of feeder styles and sizes.
Our Top-of-the-Line Squirrel-Proof Feeder
The Eliminator™ allows you to stop squirrels from eating your seed. Featuring unique, weight-sensitive technology, the feeder's seed ports are closed when a squirrel touches the perch ring. You can set the sensitivity level to also exclude large birds such as pigeons or doves. It's easy to hang, holds about three quarts of seed and is backed with a limited lifetime guarantee.
Baffle Your Squirrels
Our Advanced Pole System® (APS) Squirrel Baffle is designed to help make your bird feeding station squirrel-resistant. Made of durable, powder-coated steel, these baffles feature a tapered design that is very effective in stopping squirrels before they reach your feeders.
Place your baffle on your setup so the top of the baffle is about 5 feet from the ground.
We also offer raccoon baffles.